Lisbon, Portugal Film Festival

Honolulu Museum of Arts Surf Film Festival

Munich Surf Film Festival

New York Surf Film Festival

California Surf Festival, Oceanside Ca. held at the California Surf Museum

Cologne, Germany Surf Film Festival

Waimea Ocean Film Festival. Great event. Great location.

Studio City Film Festival, Los Angeles, California
"This is not your average surf film."
"Peter Sterling – photographer and filmmaker – traveled intensively for two years throughout Europe. From the barren cold North to the hot desert of Morocco.
Countries like Iceland, Scotland and Ireland through the middle of Europe, even surfing on rivers in Germany and Switzerland. This film includes 11 destinations.
This is not your average surf film. It does not only show you surf pros but also the guy down the block. It shows serious big waves in Spain and Madeira. An open film made from the heart that will give you joy history and poeple that you meet along the way.
This film also contains some older footage of young surfers that still rule the European waves today. Hopefully you are inspired by this historical journey through space and time." Ray Max (surf photographer, writer and filmmaker)
Locations: Iceland, Ireland, Scotland, Denmark, Sweden, Germany, Spain, Switzerland, Portugal, Madeira, Morocco
Length: 52 minutes.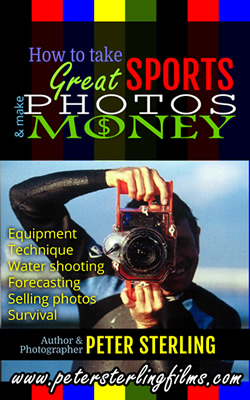 $7.49 If you want to know how to take Great Sports Photos and Make Money this IS the book for You. I have put all the most Important Tip and Techniques I have learned in my 38 year Professional Career into this book. I did not hold anything back.
Everything I know is in this book. You get an Insider's guide to Success in Sports Photography, Video, and Filming. After you read this book if you implement the techniques described you will be well on your way to a Successful Career as a Sports Photographer.
Read More